High Speed, High-Performance Doors
Attention architects, contractors, business owners, & distributors!
Overhead Door™ introduced a new line of high-speed, high-performance doors for Commercial and Industrial applications. You now have five new models to choose from for high-speed, high performance doors. The five models were unveiled at the International Door Expo in Las Vegas earlier this year.
Overhead Door™ recently entered the high-speed door category with its RapidFlex™ High Speed doors. These include rolling fabric door models for both interior and exterior applications. A rugged rubber door model is ideal for chemical and mining facilities.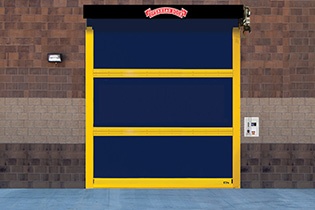 "Our new high-performance doors include industry-leading standard features that set us apart," said Joe Dachowicz, marketing vice president for Overhead Door™. "With patent-pending designs, enhanced safety features, and self-resettable operation, we are confident that our doors provide the best-in-class in productivity and longevity."
RapidFlex™ High Speed Doors are appropriate for a wide range of applications, including food, beverage, manufacturing, clean rooms, auto, transit, mining and temperature control.
All RapidFlex™ High-Speed doors feature:
Breakaway
Self-reset
Two sets of infrared obstruction detection
Wireless reversing safety edges
An industry-leading five-year door system warranty
"Overhead Door™ is one of the most comprehensive garage door and opener manufacturers," added Ali Isham, marketing director for Overhead Door™. "The launch of the new RapidFlex™ High Speed door models show our commitment to ensuring that our customers a broad selection of product options for commercial and industrial applications."