Earlier this month we introduced a new design in our popular Thermacore® Collection. The Model 192 V10 allows local Ribbon distributors to remain competitive with another garage door solution, expanding our industry offerings.
The Model 192 V10 embossment comes in the existing Thermacore Collection colors and finishes and is available with the wind load offerings within the current 190 series. The wainscoting design is a centuries-old marriage of form and style, adding an upscale look at an affordable price.
With five designs, nine colors and two finishes, and a variety of window styles, the Model 192 V10 is everything a homeowner could want in a door. The new long panel design allows another choice for our distributors to offer customers, keeping them competitive in the industry.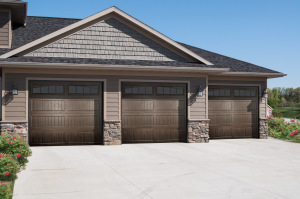 A garage door can enhance the overall look and feel of a home, and homeowners can be confident when outfitting their home with a Thermacore insulated steel garage door. Specifically designed to reduce air filtration, Thermacore doors can help maintain thermal efficiency in both hot and cold weather climates.


Tags: Model 192 V10, New Garage Door Style, Wainscoting Design