Introducing OHD Anywhere™ Garage Door Opener App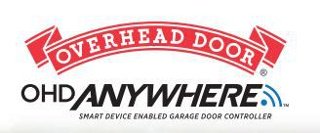 Imagine the peace of mind and convenience that comes with being able to open or close your garage door from anywhere in the world. We're excited to introduce Overhead Door's new smart device enabled garage door controller: OHD Anywhere™. Never worry again about giving your garage pass code to anyone. With the use of OHD Anywhere™, it's as simple as opening the app on your smart device.
OHD Anywhere™ allows users to operate up to three garage doors from any location. The app is compatible with most Android and Apple mobile devices. The ability to monitor your garage from afar is not only convenient, but also sager than traditional monitoring methods. Door-mounted sensors monitor the position of the garage door rather than the operation of a garage door opener. Users will be alerted to any change in position of the garage door even if it's been disengaged from the opener.
OHD Anywhere™ works through the use of your home Wi-Fi® connection, and can be programmed for use on up to three doors per module (additional sensors are required if you have more than one door). The door module incorporates the low-power SimpleLink™ Wi-Fi CC3200 wireless MCU from Texas Instruments (TI)∗ which allows for users to securely operate their garage doors. OHD Anywhere™ can be used with most garage door openers produced after 1993.
OHD Anywhere™ operates via a free app that can be downloaded from your device's app store (iPhone users, and Android users for quick access to download).