2016: Overhead Door™ Turns 95!
Now that you celebrated ringing in 2016, join Overhead Door™ as we celebrate our 95th Anniversary! We're excited to kick-off 2016, share with you our history, and the founding of our company. This year, we will share some of our historic contributions to the industry over 95 years on our blog. Today's post focuses on our founder, C.G. Johnson and his contributions to the garage door industry.
In the early 1900's Henry Ford unveiled the Model T. This automobile was affordable and reliable with country roads and small towns in mind. The cost of the Model T made it affordable for the majority of the population. This boom in the automobile industry led several other car makers to start producing affordable cars, making more car owners. With so many Americans now on the road, they needed a place to store their newly purchased vehicles!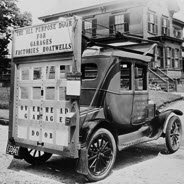 Carriage houses, originally meant to house horses and the carriages they led, had a new addition, the automobile. Eventually, carriage house phased out as more people purchased vehicles and replaced them with garages. Early garages had side opening panel doors which worked, but not in the most convenient manner.
Seeing that these doors required double the amount of space to open, C.G. Johnson had an idea. In 1921, Johnson patented a sectional Overhead Door™. With that idea came the birth of a corporation.