New Garage Door Accessories
The Genuine, the original, Overhead Door Corporation™ introduced two new garage door accessories that work with the Odyssey and Destiny openers. The Overhead Door™ Advanced Wall Console and the Overhead Door™ Master Remote are designed to provide homeowners with extra security and efficiency.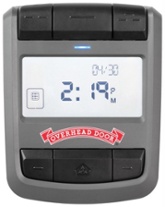 No more multiple wall consoles for multiple doors in the garage. The Advanced Wall Console can handle up to three garage door openers via an Overhead Door™ Network Adapter (sold separately) that plugs into the Odyssey and Destiny openers. It features an easy-to-use LCD touch screen for easy operation.
The Advanced Wall Console provides consumers with peace of mind thanks to Sure-Lock security control. This feature allows homeowners to lock external activation of their garage door openers any time of day or night. Safe-T-Beam system is continuously monitored. It displays "CHECK BEAMS" if obstructed.
For More Information on The Advanced Wall Console
Please go to https://www.overheaddoorwaterbury.com/residential-doors. Scroll down the page. Click on the Advanced Wall Console Brochure.

In addition to the Advanced Wall console, Overhead Door™ also introduced the Overhead Door™ Master Remote. Compatible with Overhead Door™ garage door opener products manufactured from 1993-present. The remote also works with all Overhead Door™ gated community receivers and Overhead Door™ 912 units.

Designed for convenience, the Master Remote features LED indicators and large, easy-to-find buttons. Users can program it for maximum functionality. The remote easily mounts to a car visor and can open up to three garage doors. It is also CodeDodger 1 and CodeDodger 2 compatible.


Tags: Advanced Wall Console, CodeDodger, Master Remote, Network Adapter